SERVICE REQUEST?
Fill out the form below.
Find our nearest location
Bed Bug Control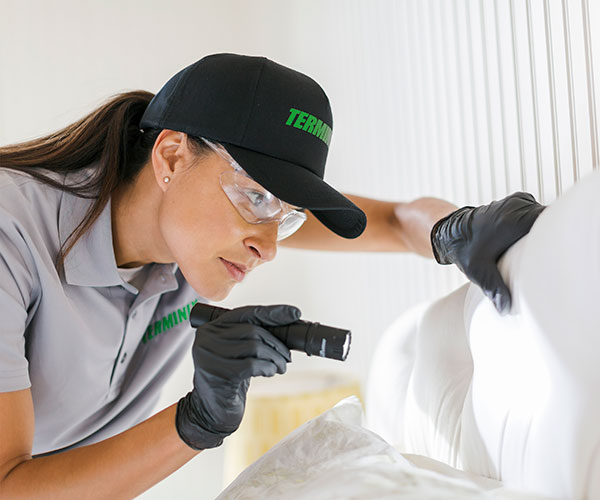 Terminix® Professional Bed Bug Control Helps You Get Rid of Bed Bugs
Recent news reports have documented the alarming increase in bed bugs throughout the U.S. due to tighter environmental laws prohibiting effective pesticides, as well as increased world travel to and from countries where bed bugs still thrive.
Bed bugs are a major threat to guests and employees in your business, but by far the worst damage they inflict is to your reputation. Internet sites log their presence at hotels and businesses nationwide, making current and potential customers stay away in droves.
Effective Bed Bug Treatments are
a Phone Call Away
Terminix® starts your bed bug control with an intensive inspection of your property from top to bottom. Because bed bugs are extremely secretive in nature, the process can take several hours so as to leave no corner unchecked. The use of a certified bed bug dog is an option that many commercial clients choose to ensure the most thorough detection possible.
Once nesting sites are identified, we'll implement a customized bed bug control plan based specifically on your site's overall infestation level and many other contributing factors.
100% Guaranteed Bed Bug Extermination
Within 14 days of your initial bed bug treatments, we'll conduct an intensive evaluation to ensure our methods have been effective. While our bed bug treatments are highly effective the first time, some particularly dense populations may require a weekly treatment until we get rid of bed bugs completely on your property.
Read What Our Clients
Are Saying
SERVICE REQUEST?
Fill out the form below.
See why 150,000 commercial customers nationwide trust the Terminix® team for all their bed bug extermination. Contact us today at 800-BUGS-911 (800-284-7911) to schedule a free, no-obligation estimate and a customized commercial bed bug control program for you!
Proudly serving customers in Fayetteville, Elizabeth City, Wilmington, Raleigh, New Bern, Goldsboro, Cary and Durham, NC as well as Virginia Beach, Chesapeake, Newport News and Smithfield, VA.