SERVICE REQUEST?
Fill out the form below.
Find our nearest location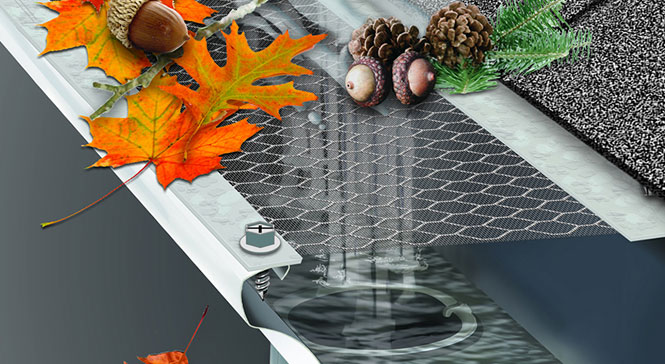 Gutter Protection
Gutters & Guards: Prevention of Water Damage, Mosquitoes & Leaves
Terminix® now offers two great ways to control the flow of water from your roof. You can stop worrying about water runoff and clogged gutters, because we've expanded our selection of great home pest control services to include gutters and gutter guards, a fitting addition considering clogged gutters are a breeding ground for pests.
Protect Your Home with Quality Rain Gutters & Gutter Guards
Rain gutters help protect a building's foundation by channeling water away from its base. They also help reduce soil erosion, prevent leaks in basements and crawlspaces & protect painted surfaces by reducing exposure to water on your home.
With professionally-installed gutter guards from Terminix®, you can say goodbye to clogging leaves. You'll never again have to risk life and limb by climbing up to clean a gutter system that's full of rotting leaves, branches and other debris. You'll save time, worry, and money, as free-flowing gutters mean less risk of spillover and consequent water damage at critical corner structures.
Rain gutters and gutter guards protect against:
Damage like this happens over time and often goes unnoticed, so by the time your home shows signs of a problem it may be too late to avoid repair costs.
Gutters & Guards Installed in Minutes, Guaranteed for Life
Terminix® uses the highest-rated gutter guards in the industry, giving you long-term value and peace of mind for as long as you own your home. We'll come to your home and perform a thorough inspection to determine the right gutter guards for you, then custom install them for a clean, professional look. Schedule a free gutter inspection and get up to 10% off service!
Read What Our Clients
Are Saying
SERVICE REQUEST?
Fill out the form below.
To learn more about our gutter guards and installation services, call 1-800-BUGS-911 (800-284-7911) to schedule a free initial consultation today, or use our location finder to find your nearest office!
Proudly serving customers in Fayetteville, Elizabeth City, Wilmington, Raleigh, New Bern, Goldsboro, Cary and Durham, NC as well as Virginia Beach, Chesapeake, Newport News and Smithfield, VA.