SERVICE REQUEST?
Fill out the form below.
Find our nearest location
Encapsulated Crawl Space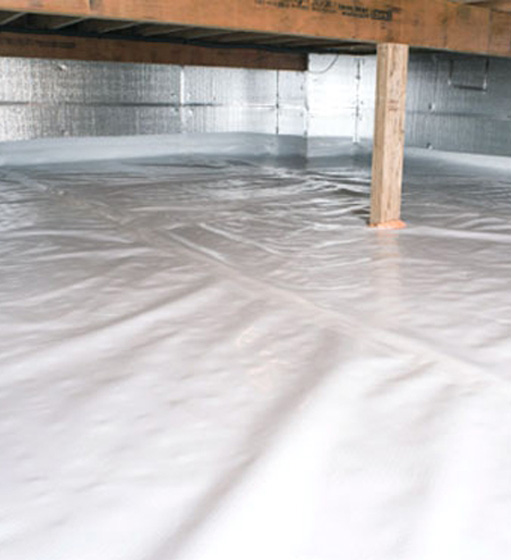 Crawl Space Encapsulation by Terminix®
When it comes to moisture control and pest prevention, Terminix® is the only company for the job. Our crawl space encapsulation services are specially designed to prevent crawl space moisture – and make the air in your home and crawl space cleaner and healthier.
Customized Moisture Control Solutions for Tidewater, VA to Eastern North Carolina
Since our founding more than 80 years ago, Terminix® has been providing our clients in Tidewater, VA to Eastern NC, with the customized moisture control solutions they need to eliminate:
The Terminix® Moisture Control System's encapsulated crawl space measure ensures your protection against crawl space moisture problems by encapsulating your crawl spaces with our proven vapor barriers, closing crawl space vents, and conditioning the musty crawl space.
Encapsulated Crawl Space: A Step Above 'Closed' Crawl Spaces
An encapsulated crawl space involves all of the aspects of a closed crawl space — with a few exceptions. To be considered an "encapsulated crawl space" the vapor barrier must be attached to the foundation wall and sealed to the floor vapor barrier. All supports and plumbing located along the dirt and walls must also be sealed and secured.
Once this is complete, a polyurethane caulk is applied to the foundation wall and crawl space barrier to seal the moisture underneath the barrier. At Terminix®, we use heavy duty liners to cover the walls and completely seal up the crawl space. For total protection against moisture damage, we offer dehumidification services for a little extra.
Read What Our Clients
Are Saying
SERVICE REQUEST?
Fill out the form below.
Interested in learning more about our fast and effective crawl space encapsulation services? Contact us at 1-800-BUGS-911 (800-284-7911) to schedule a free initial consultation and protect yourself from moisture damage today! Use our location finder to find the office nearest you.
Terminix proudly serves customers in Fayetteville, Elizabeth City, Wilmington, Raleigh, New Bern, Goldsboro, Cary and Durham, NC, as well as Virginia Beach, Chesapeake, Newport News and Smithfield, VA.