SERVICE REQUEST?
Fill out the form below.
Find our nearest location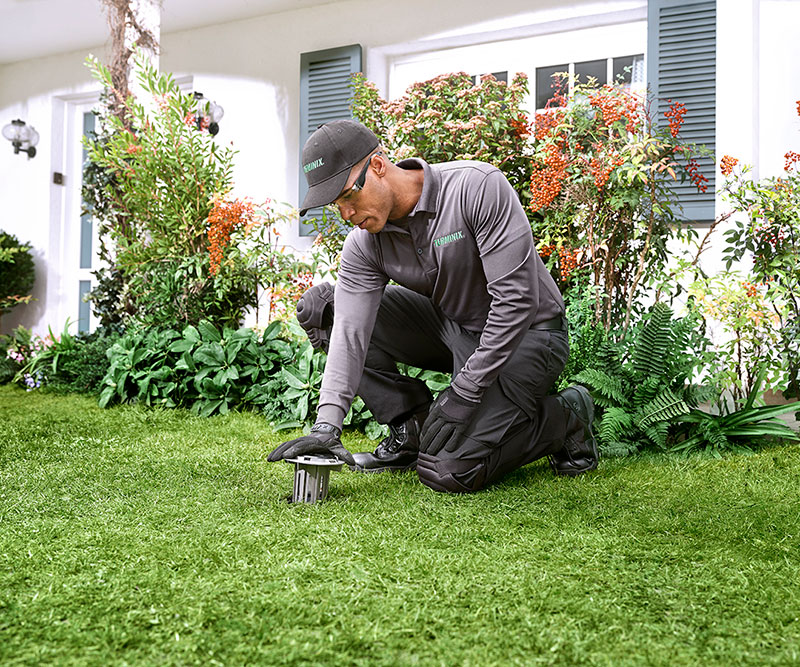 Terminix Termite Baiting System
As the termite industry has evolved, the use of termite baiting systems has become more popular. Embracing the many benefits of termite baiting, Terminix has partnered with Corteva (formerly Dow) to offer the Sentricon baiting system to qualifying customers of Terminix. Sentricon represents the top of the line termite treatment option in the industry. Over time, baits have proven to be less invasive, more dynamic, and more effective than liquid treatment options.
What is a Termite Baiting System?
A termite baiting system consists of bait stations that are inserted into the soil around a structure at specified intervals to intercept foraging termites. At Terminix, we use the Always Active Sentricon baiting system. With the Always Active system, bait is inserted into the station at the time of installation, meaning you have immediate protection from Termites. No monitoring, no wasted time, Terminix and Sentricon start working for you from Day One! The green stations are placed in intervals of every 12-15 feet around the home within approximately two to three feet of the foundation wall. Each station has a diameter of approximately four inches, making them virtually undetectable and free from foreign obstruction.
How does the Terminix Termite Baiting System Stop Termites?
There are over twenty termite colonies on one acre of land in our area. Termites forage in non-discernable patterns throughout the soil looking for substances to feed on. These random foraging patterns eventually lead termites to a bait station. Upon locating the bait station, termites find Sentricon bait irresistable and preferable to other food sources leading to additional colony recruitment to the bait. As termites feed on the bait, and feed the rest of the colony with the bait, the active ingredient that is ingested prevents the molting process, resulting in the death of termites and eventual colony elimination.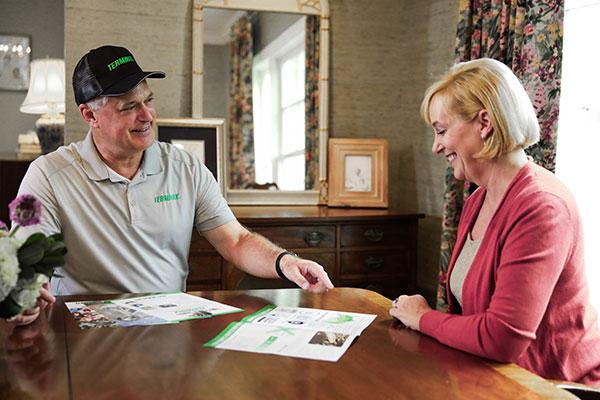 What is Included in a Terminix Termite Baiting System Plan?
A termite baiting system with Terminix includes our most comprehensive coverage. It includes the Terminix Ultimate Protection Guarantee – we won't stop until the termites are stopped. In addition to the Ulitmate Protetion Guarantee, with a termite baiting plan, Terminix covers new termite damage up to $25,000. Terminix will provide an annual inspection and re-treatment of the structure when necessary to guarantee that your home or business remains termite-free with continuation of your annual protection.
Lasting Benefits of Choosing Terminix
A Terminix coverage plan is fully transferrable to the future buyer of your home when it comes time to move, but the coverage can also be taken to your new home! Terminix's customer for life program allows for continuation of your termite coverage on your next home at the same rate as your annual renewal coverage amount (rate is subject to current annual renewal rate) – no initial treatment necessary! Also, Terminix will provide a free Wood Destroying Insect Report whenever it is needed.
*Information for this web page is sourced by Terminix International. Terminix North Carolina is a locally owned franchise of Terminix International.
Read What Our Clients
Are Saying
SERVICE REQUEST?
Fill out the form below.