SERVICE REQUEST?
Fill out the form below.
Find our nearest location
Liquid Termite Treatment Solutions
The use of liquid termiticides is historically the most common termite treatment method used. At Terminix, we offer liquid termite treatment options that include the use of traditional imidacloprid-based termiticides, but also cutting-edge Termidor treatments that include the use of a fipronil-based termiticide.
What is a Liquid Termite Treatment?
All liquid termite treatments include the trenching and treating of the exterior foundation of a home. A 6" x 6" trench is dug around the foundation of the home and termiticide is sprayed within this trench. Additionally, a rod is used to directly inject the termiticide to the foundation footer (typically one foot below the soil, but in some areas can be considerably deeper). This exterior "barrier" creates a treated zone of soil that will kill every termite that passes through it. A more comprehensive treatment includes trenching and treating the interior of a home (for crawlspace structures), and the drilling of foundation blocks and slabs which are hot-spots of termite activity.
What is Included in a Liquid Treatment Plan?
A liquid treatment plan includes the Terminix Ultimate Protection Guarantee – we won't stop until the termites are stopped. Terminix will provide an annual inspection and re-treatment of the structure when necessary to guarantee that your home or business remains termite-free with continuation of your annual protection plan.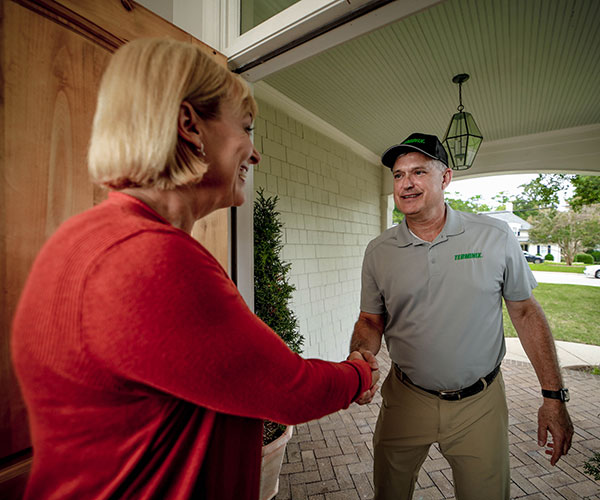 Lasting Benefits of Choosing Terminix
A Terminix coverage plan is fully transferrable to the future buyer of your home when it comes time to move, but the coverage can also be taken to your new home! Terminix's customer for life program allows for continuation of your termite coverage on your next home at the same rate as your annual renewal coverage amount (rate is subject to current annual renewal rate) – no initial treatment necessary! Also, Terminix will provide a free Wood Destroying Insect Report whenever it is needed.
Call Terminix for a free home inspection to learn more about our termite treatment options.
*Information for this web page is sourced by Terminix International. Terminix North Carolina is a locally owned franchise of Terminix International.
Read What Our Clients
Are Saying
SERVICE REQUEST?
Fill out the form below.