SERVICE REQUEST?
Fill out the form below.
Find our nearest location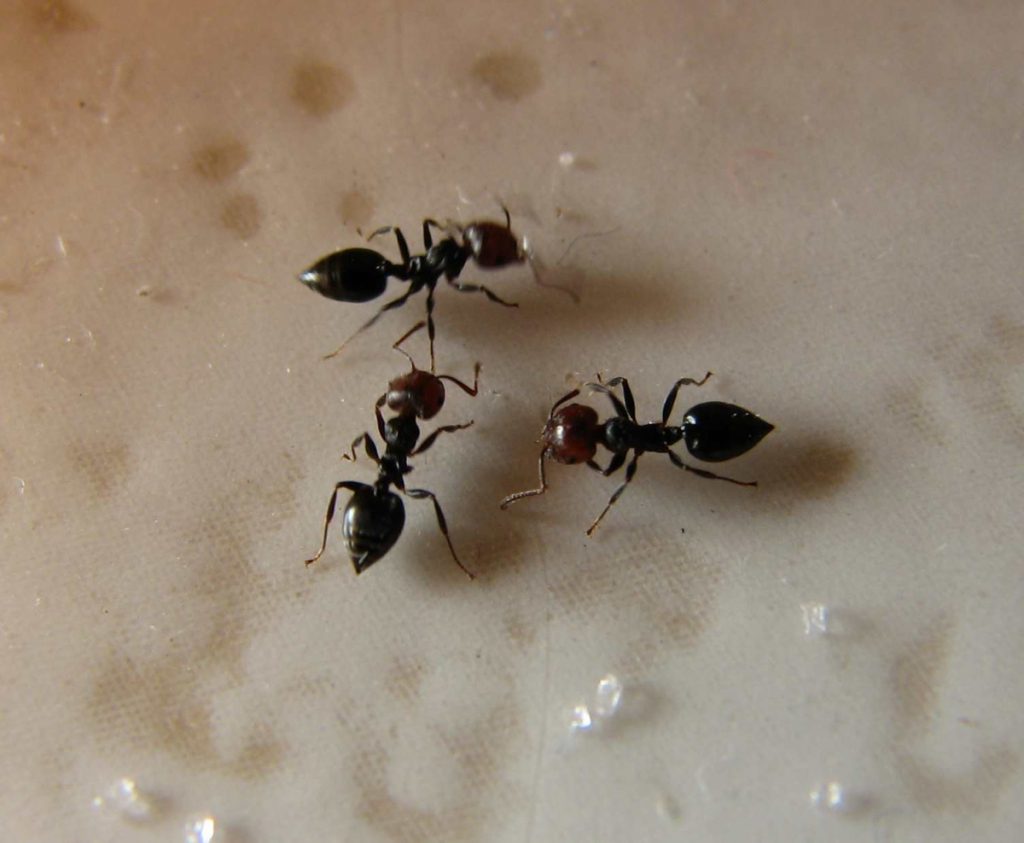 Acrobat Ant
Attribution: D. Yanega, via Wikimedia Commons
Size: Ranges from 1/8-inch to more than 1/4-inch in length. The most commonly encountered species are found at the smaller end of this size scale.
Color: Ranges from black to dark brown to red and black. The smaller species are typically uniformly dark in color. A larger species, common in Texas, is red and black.
Behavior: When excited or disturbed, the acrobat ant workers run about with their abdomens held high above their heads. Like most ants, acrobat ants establish well-defined trails between the nest and food and water sources. They feed on a wide variety of foods, but the workers are partial to the sweet honeydew produced by aphids, scales and mealybugs found feeding on many trees and plants. Fruit trees, roses and many shrubs serve as hosts for aphids and may contribute to ant infestations in buildings. Most infestations inside are the result of workers searching for food.
Acrobat ants are like carpenter ants in that they prefer to nest in moist or rotted wood. Colonies are most often found in tree holes, dead limbs, stumps and logs. Rotting areas in fences, decks and railings may also be nesting locations. Most infestations of acrobat ants originate from outdoor nests; however, if moist or rotted wood exists inside because of water leaks, this ant will readily nest indoors. Such interior nests are typically found around the perimeter — in soffits, door frames and skylights.
Acrobat ants are controlled by finding and treating wood where the ant colonies are located. Often, the nest may be located far above the ground in a tree where it is inaccessible to direct treatment. In such cases, limiting interior invasion of ant trails is critical. Repairing water leaks and drying out moist wood inside will help prevent infestations of both acrobat and carpenter ants. Improving attic and crawl space ventilation is also important in limiting acrobat ant infestations. General tips for limiting ant infestations include:
Eliminating piles of lumber, bricks or other debris that could serve as a nesting site for ants.
Keeping landscape mulch less than 2 inches thick and at least 12 inches away from foundations.
Ensuring the sprinkler system does not spray directly onto the foundation.
Sealing as many cracks in the building's exterior as possible.
Keeping tree and shrub branches trimmed to prevent them from touching the building.


Family Name:
Crematogaster spp.
Read What Our Clients
Are Saying
My Terminix tech Scott is the best! He is professional, courteous and absolutely thorough about his job. Thank you for sending such a blessed tech to my house. Hamlet, NC
Dot Janus
This letter is to say how pleased we are here at Morreene West Apartments with your services. We are very pleased with the technician, Christopher. He does a great job. Durham, NC
Carolyn Anderson
Terminix has consistently offered our apartment complex reliable, competent service. We are completely satisfied with their knowledgeable representative who is always punctual and does a superior job for us every time. Chapel Hill, NC
Nancy C. Riley
I would like to take the time to thank you for giving us such great service here at Carver Pond Apartments. Your Pest Technician Christopher Mitchell has provided us with excellent service over the last few months. Christopher is such a great help to us in providing helpful information so that we can better serve our residents here at Carver Pond. Durham, NC
Vickie White
SERVICE REQUEST?
Fill out the form below.