SERVICE REQUEST?
Fill out the form below.
Find our nearest location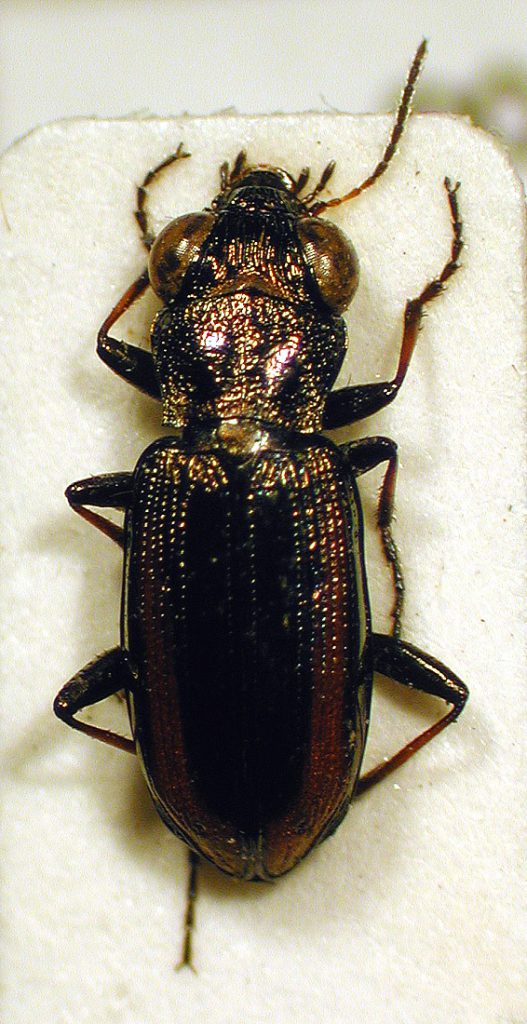 Ground Beetle
Attribution: M. Virtala, via Wikimedia Commons
Size:
1/8-inch to more than 1 inch long
Color:
Varies — most commonly black, but some species are brown, red and black, or may be bright green.
Behavior:
The ground beetles are so named because they are most commonly found at ground level. More than 2,000 species occur in the United States and Canada. Most species live outside and rarely venture inside. Several types, however, are strongly attracted to exterior lighting and will fly to buildings in large numbers. Once attracted to a building, many beetles may wander inside under doors or through cracks in the foundation. The most common structure invaders are a few species (Harpalus spp.) that are black in coloration, about ½ inch long. Many homeowners confuse these with cockroaches, however, ground beetles are hard-shelled while cockroach wings are leathery in texture. Some people also refer to these black ground beetles as "waterbugs," although that term is generally used to describe the oriental cockroach. Many small ground beetles measuring 1/8- to ¼-inch are also attracted to lights and may unintentionally enter structures. Ground beetles are predators, both as larvae and adults. The large (1 inch) and brightly colored (metallic green) caterpillar hunter Calasoma scrutator is a voracious predator of many caterpillars and other insects found within fields and lawns such as cutworms and armyworms. The so-called black "pincher bugs" (Scarites spp.) found under stones around homes and buildings are actually a type of ground beetle and are completely harmless. Another common type, Galeritula spp., seen around homes has a red head, legs and thorax, and black wings and abdomen. In the western United States, the stink beetle, Nomius pygmaeus occasionally occurs in homes and will emit an offensive odor if handled or disturbed.
Ground beetles are found nearly everywhere outside, but are most common where lawns, fields or wooded areas surround buildings. They can, however, be found within large cities, suburbs and rural areas. These beetles are commonly found under objects such as wood, logs, rocks and other objects in contact with the soil. They are primarily nocturnal and fly readily to lights.
The key to minimizing ground beetle invasions is twofold: (1) change exterior lighting to yellow "bug light" bulbs that are less attractive to insects and (2) minimizing potential harborages next to and around the home or building. Exterior Lighting — On homes, exterior light fixtures should be turned off or have yellow "bug lights" installed. Commercial buildings should use sodium vapor lamps in fixtures rather than mercury vapor lights. Harborage Removal — Thick ground covers, such as ivy, "monkey" grass, etc. should not be located next to or near a foundation as it provides harborage for innumerable insects, spiders, mice and other pests. Items in contact with the soil should be removed, wherever possible. Firewood, lumber and other such stored items should be stacked off the ground on supports and be located away from the home or building. Additionally, exterior doors should have tight-fitting weatherstrips and exterior cracks should be sealed to deny pests entry into the home or building structure. Weep holes can be "closed" by stuffing pieces of wire mesh or screening into the openings.

Family Name:
Family Carabidae
Read What Our Clients
Are Saying
My Terminix tech Scott is the best! He is professional, courteous and absolutely thorough about his job. Thank you for sending such a blessed tech to my house. Hamlet, NC
Dot Janus
This letter is to say how pleased we are here at Morreene West Apartments with your services. We are very pleased with the technician, Christopher. He does a great job. Durham, NC
Carolyn Anderson
Terminix has consistently offered our apartment complex reliable, competent service. We are completely satisfied with their knowledgeable representative who is always punctual and does a superior job for us every time. Chapel Hill, NC
Nancy C. Riley
I would like to take the time to thank you for giving us such great service here at Carver Pond Apartments. Your Pest Technician Christopher Mitchell has provided us with excellent service over the last few months. Christopher is such a great help to us in providing helpful information so that we can better serve our residents here at Carver Pond. Durham, NC
Vickie White
SERVICE REQUEST?
Fill out the form below.