SERVICE REQUEST?
Fill out the form below.
Find our nearest location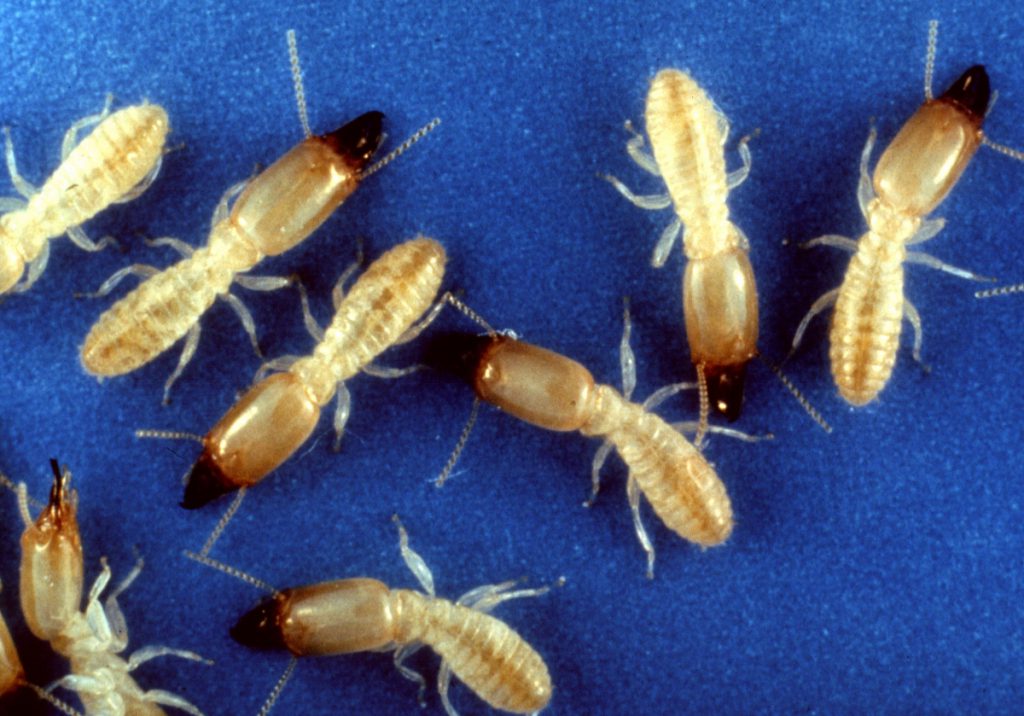 Subterranean Termite
Attribution: Giancarlodessi via WikiCommons
Size:
Worker: 1/8- to 3/8-inch in length. Soldier: Body is similar to that of the worker, but large, deck head with powerful mandibles. Supplementary Reproductive: About one inch in length. Primary Reproductive: About one inch in length.
Color:
Worker: Pale, cream colored. Soldier: Light colored with brown head. Supplementary Reproductive: Light colored. Primary Reproductive: Dark brown/black.
Behavior:
This termite is known to swarm in spring, but small flights can occur at any time of the year. Swarming is the visible means that termites use to establish new colonies. As the colony grows, specialized castes are produced for the different tasks required. One caste produced is the workers. Another caste is the soldiers. And a third caste is the reproductives. Primary reproductives swarm and start new colonies. They are called alates or swarmers. Although thousands of primary reproductives may be produced each year, they all leave the nest. Supplementary reproductives, on the other hand, can become reproductive only in the colonies in which they were born. They assist the primary king and queen in population growth of the colony.
Subterranean termites live in colonies in the ground, building vertical tunnels that look like mud tubes above ground level so that they can search for food. Because subterranean termites will die if exposed to air for an extended period of time, the tunnels provide protection from the open air, allowing workers to carry food to the nest. Subterranean termites can form tunnels through cracks in concrete, so slab homes are not exempt from these termites. They need to stay in contact with the soil in order to survive, unlike drywood termites that only need low moisture.
There are several things a homeowner can do which can help prevent termite infestations or make them easier to detect.
Store firewood away from the house.
Make sure at least four inches of the foundation can be seen all around the home. Siding should not extend into the soil. Mulch and soil should not touch the siding.
Make sure water drains away from the foundation to ensure water does not accumulate. Rain gutters are ideal; however, the downspout should direct the water away from the home.
Roof or plumbing leaks can allow termites to survive above ground in a house. These should be corrected as soon as possible.
Family Name:
Family Rhinotermitidae
Read What Our Clients
Are Saying
My Terminix tech Scott is the best! He is professional, courteous and absolutely thorough about his job. Thank you for sending such a blessed tech to my house. Hamlet, NC
Dot Janus
This letter is to say how pleased we are here at Morreene West Apartments with your services. We are very pleased with the technician, Christopher. He does a great job. Durham, NC
Carolyn Anderson
Terminix has consistently offered our apartment complex reliable, competent service. We are completely satisfied with their knowledgeable representative who is always punctual and does a superior job for us every time. Chapel Hill, NC
Nancy C. Riley
I would like to take the time to thank you for giving us such great service here at Carver Pond Apartments. Your Pest Technician Christopher Mitchell has provided us with excellent service over the last few months. Christopher is such a great help to us in providing helpful information so that we can better serve our residents here at Carver Pond. Durham, NC
Vickie White
SERVICE REQUEST?
Fill out the form below.