Dunn, NC Moisture Control by Terminix®
Soil under the foundation of your home. Damp air in your crawl space and basement. Moisture buildup in your attic or insulation. These are just a few of the possible sources of excess moisture that can seep unnoticed into your Dunn, NC home — causing extensive water damage and ruining your possessions in the process.
Prevent Structural Damage, Pest Infestations
Without the use of proper Dunn moisture control, you put at risk the structural security of your home and open up your humble abode to termite, cockroach and other pest infestations. To protect your property from the effects of excess moisture, contact the moisture control experts at Terminix®!
Protect your Old or New Dunn Home from Water Damage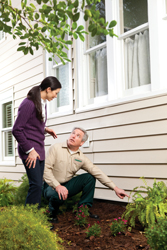 Excess moisture can affect old and new homes alike. Old homes may become susceptible over time, whereas the tight construction of newer homes can trap in moisture that builds up over time to result in costly and extensive water damage.
To ensure your home, rather old or new, is protected from excess moisture and water damage, we recommend you have a specialist in the field conduct regular home moisture inspections.
With our inspection process:
A Terminix® moisture control specialist will thoroughly examine your Dunn, NC home for signs of excess moisture to determine the root of the problem.
Once this is established, we will advise you on the moisture control treatments and products to best suit your needs.
Terminix®: Crawl Space Moisture Control that Counts!
Call Terminix® to get excess indoor moisture under control, and avoid the expense of unnecessary water damage treatments and repairs. Our moisture control experts have been delivering peace of mind to clients throughout Johnston County and North Carolina since our inception more than 80 years ago.
Our Dunn, NC five-part crawl space moisture control system involves our use of an array of moisture control methods, including:
To learn more about our Dunn, NC moisture control services, call 1-800-BUGS-911 (800-284-7911) today and schedule your free initial consultation!