Terminix® Moisture Control Prevents Mold, Wood-Decaying Fungus and More
As much as 19 gallons of water vapor enters your Virginia Beach, VA home from the crawlspace every day, silently rising up through the subfloor and wreaking havoc on air systems, structural components and wall spaces.
At Terminix®, we consider moisture control an important part of any homeowner's maintenance checklist in preventing mildew and other effects of excessive moisture—including accelerated breeding of termites, roaches and other destructive insects.
Protect Your Virginia Beach, VA Home from Excess Moisture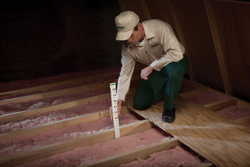 Tighter construction of today's more efficient homes actually encourage moisture retention and increase condensation. Ironically, the better built your home, the more likely you'll need moisture control measures in the future to prevent mildew and insect breeding.
If you want to prevent moisture problems and reduce the likelihood of insect infestations in your home, call the moisture control specialists at Terminix®. We're the leader in implementing moisture control measures in crawl spaces and other environments in Virginia Beach, VA.
Five-Part Terminix® Crawl Space Moisture Control System
Terminix® leads the industry in efficient moisture control for any size home in Virginia Beach, VA. Our five-part crawl space moisture control system helps protect your home from pest infestations and water damage through our use of flood alert notification along with our:
Terminix® can supply the right moisture control solution for you. To learn more about our moisture control services for Virginia Beach, VA, call 1-800-BUGS-911 (800-284-7911) today to schedule a free initial consultation!