Get Rid of Fire Ants in Fayetteville, NC with Terminix®
Whether you're a Fayetteville, NC native or new to the area, it only takes one trip outside during the warmer months to learn just how painful and prevalent fire ant stings can be. Fire ant stings cause more then just topical pain; they can also cause serious reactions in the elderly, very young, and others with weakened immune systems.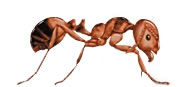 But with the Terminix® Fire Ant Treatment plan, your worries over fire ant stings are a thing of the past! Our proven methods to get rid of fire ants go to work immediately, and employ the latest pest control technologies to make sure the job's done right the first time.
Terminix® Treatments Help Solve Your Fayetteville, NC Red Imported Fire Ant Problems
Our experienced technicians take a four-pronged approach to fire ant treatment, which includes:
Inspection. We will determine the extent of the problem in your Fayetteville, NC home or business.
Identification. We will identify the source of the fire ant problem and prepare to eliminate it.
Fire Ant Treatment. Ants are at their most active during the spring, summer and fall. We will apply our Extinguish Plus® fire ant treatment that combines two ingredients that work against fire ants in two different ways: they eliminate the colony and insure that it cannot be rebuilt.
Follow-up. We will follow up to be sure the treatment is working to your satisfaction.
To learn more about our fire ant treatment methods and to get rid of fire ants in your Fayetteville, NC space, call 1-800-BUGS-911 (800-284-7911) today to schedule a free initial consultation!