Fayetteville, NC Home Flea Control and Flea Prevention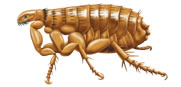 Our home flea control team has been successfully battling flea infestations in Fayetteville, NC for nearly 80 years. We utilize the latest equipment in flea prevention technology to help you reclaim your living space to relax and be worry-free.
The Only Fayetteville, NC Flea Exterminator You'll Need
Our flea treatment is so powerful, it usually works in just one application. Your personal Terminix® flea exterminators will not only treat your home for fleas, they'll take proven flea prevention steps and provide tips to ensure that the fleas don't come back.
To prepare your Fayetteville, NC home for our powerful flea control, just follow these easy pre-treatment steps:
Floors and carpets in treatment area must be vacuumed prior to treatment.
All toys and other objects must be picked up in treatment area prior to treatment.
All people and pets must be out of the area that will be treated.
Our products kill the fleas and have growth regulators built in, so fleas get gone and stay gone! As always, our home flea control is backed by our 100% ultimate protection guarantee.
To learn more about our home flea treatment methods, call 1-800-BUGS-911 (800-284-7911) today to schedule a free initial consultation!