Fayetteville, NC Backyard Mosquito Control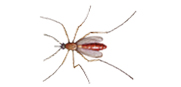 The mild weather in Fayetteville, NC means more time to spend outside, right? Not when mosquitoes are around!
Nothing spoils outdoor fun like mosquito bites. Swelling, itching and redness can detract from even the most enjoyable activity and make you swear not to set foot outside your Fayetteville, NC home until mosquito season passes.
Luckily, the mosquito control experts at Terminix® are fully trained to help you get rid of mosquitoes so you can enjoy the outdoors again with friends and family.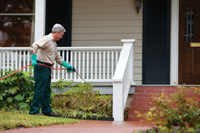 Our Fayetteville, NC backyard mosquito control process includes:
Inspection: We'll perform a thorough site survey to check all possible sources of mosquito infestations, including standing water sites and damp spaces in and around your home.
Treatment: We'll apply the latest in industry-leading backyard mosquito control treatments and technologies. Standing water sites will be identified and eliminated, where necessary, with our moisture control strategies. Gutter protection may also be recommended for added prevention.
Prevention: We'll back up our mosquito control service with preventative measures, education, and our 100% ultimate protection guarantee.

From one-time treatments to our popular seasonal mosquito service plans, see for yourself why thousands of customers in and around Fayetteville, NC rely on Terminix® for their mosquito control needs.
Call 1-800-BUGS-911 (800-284-7911) to schedule a free initial consultation today!