Fast & Effective Greenville, NC Cockroach Control
Cockroaches are repulsive, and for more than just their ugly looks — they are also carriers for bacteria. Don't let roaches contaminate you home. Even one cockroach can quickly turn into a large-scale infestation, or it could be a sign that you already have a big roach problem! Call Terminix® to get rid of roaches.
We'll Get Rid of Cockroaches—Fast!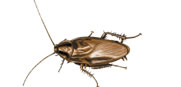 Our Terminix® cockroach exterminators know that the best way to deal with an infestation of any size is by killing cockroaches quickly. These pests won't get the time or chance to become a bigger problem — and once they are gone, cockroaches won't be back. We have more than 80 years of experience eliminating roach problems and helping Greenville, NC residents reclaim their living spaces.
Our Comprehensive Greenville, NC Cockroach Extermination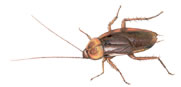 Terminix® cockroach exterminators utilize a three-part approach to make sure that your
cockroach problem is gone for good.

Our cockroach extermination plan includes:
Inspection: Terminix® will determine the extent of cockroach infestation so we can target our treatments accordingly.
Elimination: We use industry-leading technology to effectively get rid of roaches in your space, no matter how bad the problem.
Prevention: Our pest technicians will educate and inform you on the best ways to prevent cockroaches and will set up chemical barriers to discourage roaches from coming back and kill any roaches that try.
To learn more about our cockroach control methods and to get rid of roaches in your space, call 1-800-BUGS-911 (800-284-7911) today to schedule a free initial consultation!