Prevent Mildew, Wood-Decaying Fungus & More with Terminix®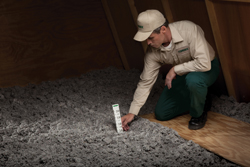 It's hard to imagine, but studies have shown that the exposed ground under the typical Raleigh, NC home gives off as much as 19 gallons of water vapor every day! Rising silently through your subfloor and into your home, water vapor permeates a structure and can lead to major physical and air quality problems, making moisture control a grave concern for nearly all homeowners.
In addition to causing structural damage, excess moisture can mildew carpets, furnishings and clothes, increase heat loss and create mildewy, sour odors in the crawl space itself. As if that isn't bad enough, excess moisture also creates prime breeding grounds for termites, roaches and other destructive insects.
Raleigh, NC Moisture Control & Pest Prevention
Tighter construction requirements and today's more efficient insulation actually hold in moisture and increase condensation. Therefore, the better built your home, the more likely you'll need moisture control measures to prevent mildew and insect breeding.
Luckily, Terminix® is here to deliver effective moisture control to Raleigh, NC homes of any size…
Terminix® Five-Part Crawl Space Moisture Control
Terminix® is the industry-leader in moisture control. Our five-part crawl space moisture control system is guaranteed to effectively protect your Raleigh crawl space and home from the lingering effects of poor moisture management, including pest infestations and structural damage.
The Terminix® Crawl Space Moisture Control System involves our use of a variety of moisture control methods, including:
Terminix® can supply the right moisture control solution for you. To learn more about our moisture control services for Raleigh, NC, call 1-800-BUGS-911 (800-284-7911) today to schedule a free initial consultation!