Terminix® Gets Rid of Termites in Raleigh, NC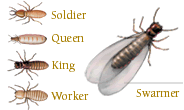 When you call us for certified termite control, a Terminix® termite exterminator will perform a thorough inspection of your Raleigh, NC property to determine which termite treatment method is right for you. We'll implement a plan that will prevent subterranean termites before they get started, or get rid of termites if you've already got them.
No matter what your issue, we've got the right termite treatment for you, including:
The Terminix® Liquid Defend System™: Creates an immediate termite control treatment zone around and through your home's foundation to stop termites before they get started.
The Terminix® Termite Baiting Program™: An alternative "GREEN" termite control option for customers who are concerned about chemical usage around their home.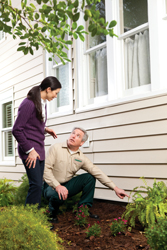 Powerful Raleigh, NC Termite Treatment
Terminix® brings you a 100% ultimate protection guarantee that promises damage repair and free re-treatments as long as you are under contract.
Terminix® protection provides you with a solution uniquely tailored for your Raleigh, NC home, family and lifestyle, including:
A $25,000 damage repair guarantee
Comprehensive inspections that help to ensure the early detection of potential and existing termite damage
Large range of treatment options
Free inspection and quote by a professional Terminix® termite exterminator 
To find out more about our pest control for termites, or which termite control method is right for you, call 1-800-BUGS-911 (800-284-7911) today to schedule a free initial consultation!