Powerful, Effective Backyard Mosquito Control for Wilmington, NC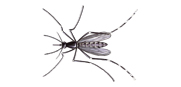 It's official: nothing ruins outdoor events faster than biting, buzzing mosquitoes!
North Carolina's temperate climate means that mosquitoes start earlier and stay longer than in other parts of the country. When you've had enough and want to get rid of mosquitoes at your home, contact the Wilmington, NC mosquito control experts at Terminix®.
Say Goodbye to Mosquito Bites and Hello to Your Backyard
When you want to eliminate and prevent mosquitoes, it takes more than just a one-time treatment. To really get rid of mosquitoes, Terminix® covers everything from customer education to the latest in elimination and prevention measures.
Our Wilmington, NC backyard mosquito control process includes:
Inspection: We'll find the sources of your mosquito problem and advise you on the best way to prevent them from continuing to be a factor. From standing water sites to damp lawn patches, we'll leave no part of your property unchecked.
Treatment: Our backyard mosquito control treatments are so powerful, they stop mosquitoes where they breed. You'll be saying so long to mosquito bites and making the most of your outdoor time again!
Prevention: Every mosquito control service we offer is backed by our famous 100% ultimate protection guarantee!
See for yourself why thousands of customers in and around Wilmington, NC rely on Terminix® for their mosquito control needs. Call 1-800-BUGS-911 (800-284-7911) today to schedule a free initial consultation!