Guaranteed Cockroach Control from Terminix®
When you're ready to get serious about cockroach control in your Durham, NC home or commercial space, pick up the phone and call Terminix® immediately.

Our professional cockroach control team is standing by to meet with you—usually the same day—to kill cockroaches and keep them from coming back. You'll enjoy immediate peace of mind and ultimate protection, guaranteed!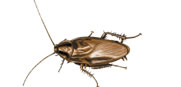 For more than 80 years, our Durham, NC cockroach control team has helped thousands of customers get rid of roaches, even under the worst circumstances. Utilizing real-world experience and the latest technology, there's no cockroach extermination problem we can't solve!
Effective Cockroach Extermination for Durham, NC
Our three-step cockroach control process ensures you'll never have to worry about cockroach extermination problems again. The cockroach treatment program includes:
Inspection: We'll inspect your home or office to determine current infestation or threat levels and base our estimate accordingly.
Elimination: We use the latest technology and industry-leading pesticides to get rid of roaches in your space, no matter how bad they've become.
Prevention: We'll educate and inform you on the best ways to eliminate any factors contributing to roach control problems, and will also set up chemical barriers to discourage others from coming back, while killing any who do.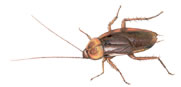 To learn more about our cockroach control methods and to get rid of roaches in your space, call 1-800-BUGS-911 (800-284-7911) to schedule a free initial consultation today, or use our location finder to find your nearest office!