Durham, NC Fly Control from Terminix®
Flies are more than just annoying pests that can ruin a picnic or other outdoor or indoor event. They carry disease and spread filth wherever they land, thanks to their affinity for breeding in garbage, manure, rotten food and other undesirable locations.
Get Rid of Flies with Powerful Fly Control and Horse Fly Control Programs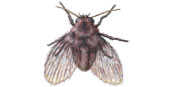 When you want to really get rid of flies in your Durham, NC home or commercial space, one-time treatments for fly control work for a while, but simply aren't effective long term. The best method to eliminate and prevent flies is a Terminix® pest control plan that includes fly control measures.
Here's how it works:
A regular fly and horse fly control plan will begin with a free, no-obligation inspection of your home and property to identify and possibly eliminate any contributing factors to your current fly infestation.
We'll then propose a customized solution to exterminate and prevent flies in and around your home. Every treatment includes our 100% ultimate protection guarantee.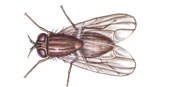 For more information on our effective Durham, NC fly control plans, and to see for yourself why thousands of customers rely on Terminix® for their regular and horse fly control needs, call 1-800-BUGS-911 (800-284-7911) today to schedule a free initial consultation!