Durham, NC Home Flea Control and Flea Prevention
Looking for effective home flea control? The Terminix® team offers more than 80 years of experience with effective flea prevention and extermination to help you get rid of fleas fast!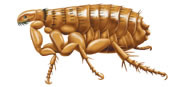 Our powerful flea treatment works in only one application so you can get back to living your life without worry of residual infestation problems. Your personal Terminix® flea exterminator will not only treat your home for fleas, he'll take proven flea prevention steps and provide guidance to ensure they don't come back.
Just follow these easy pre-treatment steps for our potent Durham, NC flea control:
Treatment-area floors and carpets must be vacuumed prior to treatment.
Remove all toys and other objects from the treatment area prior to our appointment.
All people and pets must be out of the treatment area before we begin.

Our products kill the fleas and have built-in growth regulators, so fleas get gone and stay gone! As always, our home flea control is backed by our 100% ultimate protection guarantee.
To learn more about our home flea treatment methods, call 1-800-BUGS-911 (800-284-7911) today to schedule a free initial consultation!