Durham, NC Backyard Mosquito Control from Terminix®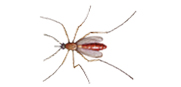 Red, itchy mosquito bites can quickly put a damper on even the most enjoyable outdoor activities, and represent a real threat to children, the elderly and others with weakened immune systems.
The mosquito control experts at Terminix® have been battling mosquitoes and helping prevent mosquito bites for more than 80 years. We've developed one of the industry's most effective ways to get rid of mosquitoes in your backyard or commercial space—fast. You'll reclaim your fun in no time, and wonder how you ever got along without us!
Get Rid Of Mosquitoes the Terminix® Way
Our Durham, NC backyard mosquito control process includes:
Inspection: Your mosquito problem could be due to excessive moisture on your property in the form of standing water sites or other damp spaces. If so, we'll find them.
Treatment: Our backyard mosquito control treatments stop mosquitoes where they breed, letting you enjoy the gorgeous Durham, NC weather with no fear of mosquito bites. Moisture control strategies may be proposed to eliminate any standing water sites, and gutter protection may also be recommended for added prevention.
Prevention: You'll enjoy the value and peace of mind that comes with our 100% ultimate protection guarantee. We'll also brief you on preventative measures to help eliminate future problems. As always, we offer free additional anytime treatments for as long as you maintain your contract.

From one-time treatments to our popular quarterly pest service plans, see for yourself why thousands of customers in and around Durham, NC rely on Terminix® for their mosquito control needs. Call 1-800-BUGS-911 (800-284-7911) today to schedule a free initial consultation!