Need Termite Control in Goldsboro, NC?
Whether you suspect your residential or commercial space is infested with termites, or you want to prevent subterranean termites from getting started, Terminix® is the only call you need to make.
Within 24 hours, a trained, certified termite control expert will be at your doorstep, inspecting for subterranean termites and utilizing the industry's latest termite treatment products to help you get rid of termites once and for all!
We'll Customize a Termite Control Plan for You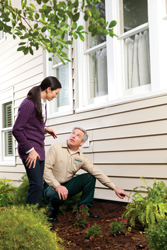 Like every customer, every termite problem is unique. We'll utilize our years of experience to configure a custom termite treatment for your home or office space.
Our guaranteed termite control options include:
The Terminix® Liquid Defend System™: The system creates an immediate termite control treatment zone around and through your home's foundation
The Terminix® Termite Baiting Program™: An alternative "GREEN" option of termite control for customers who are concerned about chemical usage around their home
Guaranteed Goldsboro, NC Termite Treatment
Terminix® protection provides you with a solution uniquely tailored for your Goldsboro, NC home, family and lifestyle, including:
A $25,000 damage repair guarantee
Comprehensive inspections that help to ensure the early detection of potential and existing termite damage
The industry's latest termite treatment options
A free, no-obligation inspection and quote by a professional Terminix® termite exterminator
An industry-leading 100% ultimate protection guarantee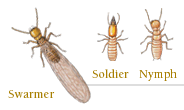 To find out more about our pest control for termites, or which termite control method is right for you in Goldsboro, NC call 1-800-BUGS-911 (800-284-7911) today to schedule a free initial consultation!