Guaranteed Flea Control in Jacksonville, NC
They may be small, but fleas can quickly create a big problem for Jacksonville homeowners! Flea infestations require the expertise of a professional flea exterminator to eliminate them for good. Terminix® is the Jacksonville, NC flea control company to call to get rid of fleas and prevent future flea problems.

Terminix® has provided powerful and lasting flea extermination for over 80 years. Our decades of experience, combined with our use of the latest flea control equipment and treatments give use the edge in the battle against fleas. Call us for a home that is free of fleas — guaranteed.
Need Flea Control? Jacksonville Chooses Terminix®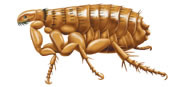 Whatever the extent of a flea problem, it cannot stand up to our effective flea extermination. The powerful flea treatments by Terminix® will eliminate the existing flea infestation with a one-time application.

Once one of our flea exterminators has applied our effective Terminix® flea treatment, they will educate you on steps you can take to make sure these pests don't return in the future. Should a flea infestation recur, we will provide free unlimited retreatments under our 100% guarantee, for as long as you have a pest control contract with Terminix®!

You can prepare your Jacksonville, NC home for a Terminix® flea treatment by following these steps:
Vacuum all carpets and floors prior to our arrival
Pick up all toys and other objects in the flea treatment area
All people and pets must be out of area to be treated
Our flea control treatments have growth regulators built into them, so fleas are exterminated and won't make a comeback. As always, our home flea control is backed by a 100% ultimate protection guarantee.

To learn more about our home flea treatment methods, call 1-800-BUGS-911 (800-284-7911) today and schedule a free initial consultation!