Need Termite Control? Jacksonville, NC Chooses Terminix®!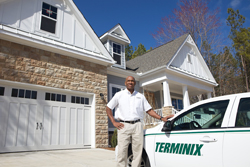 When it comes to termite damage, prevention is always the answer! Termites can cause major structural damage to a building, but Terminix® can help. If you suspect your home or commercial building could have termites, it's time to call the Jacksonville termite exterminators: Terminix®.

A qualified termite exterminator will be at your property within 24 hours of your call to Terminix®, to perform a thorough termite inspection. This assessment will detect any termite activity or subterranean termites. Our termite control expert will then recommend a Terminix® termite treatment to suit your need, using the most up-to-date termite extermination equipment to get rid of termites for good.
Custom Jacksonville, NC Termite Solutions by Terminix®
We understand termite infestations better than anyone — so Terminix® knows that every case is different, and so are the needs of our Jacksonville, NC pest control clients. To make sure our customers get the best service and termite control possible, we help you choose a termite solution tailored to your needs.

Our guaranteed Jacksonville, NC termite control treatments include:
The Terminix® Liquid Defend System™: This system creates an immediate termite treatment zone around and through your home's foundation.
The Terminix® Termite Baiting Program™: An alternative "GREEN" termite control option for Jacksonville clients who are concerned about chemical usage on their property.
Powerful, Lasting Termite Control — Guaranteed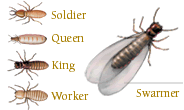 When you call Terminix® for termite control, we want you to feel confident that your termites are gone for good — and we'll take care of any problems should they return. We back up our Jacksonville, NC termite solutions with our 100% ultimate protection guarantee, which promises damage repair and free re-treatments for as long as you are under contract!
Terminix® also offers other exclusive benefits, such as:
A $ 25,000 damage repair guarantee
Thorough property inspections that help prevent termite damage
Large range of treatment options
Free inspection and price quote courtesy of a professional Terminix® termite exterminator
To learn more about our Jacksonville, NC pest control for termites or discuss your termite control options, call 1-800-BUGS-911 (800-284-7911) today to schedule a free initial consultation!