Terminix®: Lumberton, NC Cockroach Control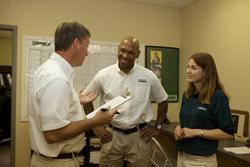 Roaches are perhaps the most hated pest, and with good reason! They not only look ugly, but they are also high unsanitary and can host a number of nasty bacteria. Even one cockroach in your home could be sign of a bigger roach problem in your Lumberton home.
Terminix® Gets Rid of Roaches, Fast!
For effective Lumberton cockroach extermination that lasts, you need the help of Terminix®. Our 80 years of experience dealing with NC roach infestations means we know exactly how to get rid of roaches in residential and commercial properties. Our cockroach control specialists are equipped with powerful products to quickly kill cockroaches and make sure they won't make a comeback.
Our Comprehensive Lumberton, NC Cockroach Extermination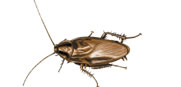 Terminix® cockroach exterminators utilize a three-part approach to completely eliminate your roach infestation.

Our cockroach extermination plan includes:
Inspection: Terminix® will determine the extent of cockroach infestation so we can target our treatments accordingly.
Elimination: We use industry-leading technology to effectively get rid of roaches in your space, no matter how bad the problem.
Prevention: Our pest technicians will educate and inform you on the best ways to prevent cockroaches and will set up chemical barriers to discourage roaches from coming back and kill any roaches that try.
To learn more about our cockroach control methods and to get rid of roaches in your space, call 1-800-BUGS-911 (800-284-7911) today to schedule a free initial consultation!