For Effective Lumberton, NC Termite Control, Choose Terminix®!
Termites, left unchecked, can cause thousands of dollars of termite damage to a building. Prevention is always the best answer to a termite problem! If you suspect your Lumberton, NC home or business could have termites, or if it's been a while since it's been checked for termites, call Terminix®.

Within 24 hours of calling us, a certified termite exterminator from Terminix® will arrive to begin termite control. Our first step is to thoroughly inspect your commercial or residential property for subterranean termites, and determine the scale of the termite problem. Our termite control technician will give you a recommended course of action, and help you design a termite control plan tailored to your needs.
Powerful Lumberton, NC Termite Exterminations by Terminix®
Every client's needs are different, and so is each termite infestation. Terminix® has seen it all, and our certified termite exterminators will recommend a course of action for effective termite control. They will work with you to make sure you receive the best service possible, and to form a custom termite treatment plan that will get rid of these pests for good.

Our guaranteed Lumberton, NC termite control treatments include:
The Terminix® Liquid Defend System™: This system creates an immediate termite treatment zone around and through your home's foundation.
The Terminix® Termite Baiting Program™: An alternative "GREEN" termite control option for Lumberton clients who are concerned about chemical usage on their property.
Our Guaranteed Termite Control Treatments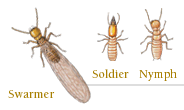 How will Terminix® make sure that we exterminate the termites on your Lumberton, NC commercial or residential property — and they stay gone? With our 100% ultimate protection guarantee, we pledge to give you free re-treatments and repair termite damage should it occur after our treatments, for as long as you are under contract with us!

Terminix® also offers other exclusive benefits, such as:
A $25,000 damage repair guarantee
Thorough property inspections that help prevent termite damage
Large range of treatment options
Free inspection and price quote courtesy of a professional Terminix® termite exterminator
To learn more about our Lumberton, NC pest control for termites or discuss your termite control options, call 1-800-BUGS-911 (800-284-7911) today to schedule a free initial consultation!