Norfolk, VA Ant Extermination: We Get Rid of Ants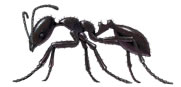 When ants invade your Norfolk, VA home or business, make your first call to Terminix®! With more than 80 years in the pest control business, our ant exterminators are trusted to deliver fast, effective and lasting ant control.
Have an Ant Infestation? Call Terminix!
If you're dealing with an ant infestation in your Norfolk, VA residential or commercial property, call the experts at Terminix® for fast response! They'll be there as soon as possible with powerful ant treatments, ant control products and ant prevention technology to quickly handle your ant problem.
We respond within 24 hours, beginning our ant control with a free inspection and assessment of your ant problem. We identify the most effective ant treatments to use for the specific case and perform them.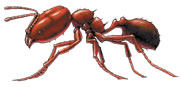 In addition to exterminating ants in your home, we trace them to the source — the queen and ant colony — and eliminate them to guarantee your ant problem won't return. You can have complete confidence in our services knowing that every Terminix® ant treatment is backed by our 100% ultimate protection guarantee!
For more information about our Norfolk, VA ant control treatments and to get rid of ants on your premises, call 1-800-BUGS-911 (800-284-2911) today to set up a free initial consultation!