Reliable Roach Control for Your Norfolk, VA Home or Business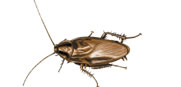 Cockroaches are gross, prolific and dirty — and probably the last pest you want in your Norfolk, VA home. Roaches are not only hard to get rid of, but they can bring diseases and germs into your home that can create an unsanitary environment. For roaches in your home, call Terminix® for complete home pest control.
Terminix® Cockroach Control: Fast Response, Powerful Results
When you have a roach problem, fast and effective cockroach control can make sure it doesn't turn into a major infestation. The Norfolk, VA pest control team at Terminix® can respond quickly, arriving at your home within 24 hours, equipped with the knowledge and powerful treatments to quickly kill cockroaches.
Kill Roaches Quickly, Thanks To Terminix®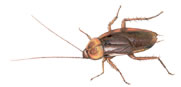 To provide complete cockroach control, Terminix® takes a three-step approach. We get rid of roaches and take the necessary measures to ensure they won't return.
Our Norfolk cockroach control plan includes:
Inspection: We'll evaluate the current level of cockroach infestation to better target treatments.
Elimination: Our powerful, industry-leading pest control treatments offer unmatched cockroach control.
Prevention: Your Terminix® cockroach exterminator will explain the best ways to prevent cockroaches and will apply chemical barriers to protect your home from future infestations.
To learn more about our Norfolk, VA cockroach control services, call 1-800-BUGS-911 (800-284-2911) today to schedule a free initial consultation!