Fast & Effective Fly Control For Your Norfolk, VA Home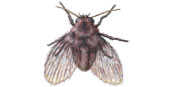 Flies are a big pest, buzzing around your home and spreading bacteria and germs from surface to surface. To maintain a clean and sanitary environment in your home, you need expert Norfolk, VA fly control from Terminix®! We can quickly respond to get rid of flies, horse flies and fruit flies in your home.
Terminix® Gets Rid of Flies—for Good
Whatever the extent or type of your fly infestation, we offer complete house and horse fly control. From eliminating an existing fly infestation to providing ongoing Norfolk pest control treatments, the Terminix® fly control technicians do it all. We include steps to keep flies from coming back, and will educate you on steps you and your family can take to prevent flies.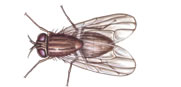 Here's how our Norfolk, VA fly control works:
We begin with a free, no-obligation inspection of your property to identify and possibly eliminate conditions that attract flies.
We'll then design a custom fly treatment to exterminate and prevent flies in and around your home. Every fly control service is backed by our industry-leading 100% ultimate protection guarantee.
For more information about our Norfolk, VA house fly and horse fly control plans, call 1-800-BUGS-911 (800-284-2911) today to schedule a free initial consultation!