Get Rid of Fire Ants in Your Norfolk, VA Home
Fire ants are tough pests, not only because they are hard to get rid of, but because they can bite back! A fire ant sting is painful for all, but for a few, it can pose the danger of causing a serious allergic reaction. Whether you have fire ants in or outside of your property, Terminix® offers the residential and commercial Norfolk, VA pest services to get rid of fire ants.
Fast, Effective Fire Ant Treatments by Terminix®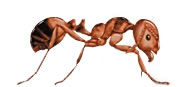 No one offers the same level of fire ant control as Terminix®! Since fire ants migrated to Virginia more than 20 years ago, we have offered superior fire ant treatments and prevention to keep your property free of these pests — and your family free of fire ant stings. Our technicians can perform complete fire ant control:
Inspect. We'll assess the level of fire ant infestation to customize your treatment.
Identify. We'll pinpoint the source of your ant problem and determine the size of the colony.
Treat. We'll apply a highly effective product called Extinguish Plus®, which works to fight fire ants in two different ways: to eliminate the colony and to insure that it cannot be rebuilt.
Follow-up. To ensure total protection from future fire ant infestations, we follow up on a regular basis.
To learn more about our Norfolk, VA fire ant treatments and to rid yourself of a fire ant infestation, call 1-800-BUGS-911 (800-284-2911) today to schedule a free initial consultation, or use our location finder to find our nearest office to you!