Expert Portsmouth, VA Flea Exterminators
Any homeowner with a flea problem knows that it's hard to get rid of fleas without professional help. Terminix® has the professional expertise to deliver lasting home flea control and prevention! Our Portsmouth, VA pest control technicians can eliminate fleas and give you tools for ongoing flea prevention.
Terminix® will utilize our 80 years of experience and the most up-to-date home flea control to provide flea extermination your family can count on. Call us and we will deliver a fast solution to get rid of fleas in your Portsmouth, VA home.
Need Flea Control? Portsmouth Chooses Terminix®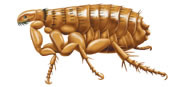 Whether your property has a few fleas or an advanced infestation, our flea control technicians can provide fast relief. The effective Terminix® flea treatments require only a single treatment to eradicate the existing infestation.
After applying the powerful Terminix® flea treatment, your flea control technician will educate you, teaching you how to prevent fleas. You can feel confident knowing that if you have flea problems again, Terminix® will provide free unlimited retreatments under our 100% guarantee, for as long as you have a pest control contract with Terminix®!
You can prepare your Portsmouth, VA home for a Terminix® flea treatment by following these steps:
Vacuum all carpets and floors prior to our arrival
Pick up all toys and other objects in the flea treatment area
All people and pets must be out of area to be treated
Our flea control treatments have growth regulators built into them, so fleas are exterminated and won't make a comeback. As always, our home flea control is backed by a 100% ultimate protection guarantee.
To learn more about our home flea treatment methods, call 1-800-BUGS-911 (800-284-7911) today and schedule a free initial consultation!