Fast & Effective Portsmouth, VA Fly Control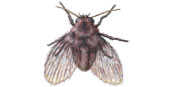 Have flies in your Portsmouth home or office? These pesky insects buzz about, spreading bacteria and diseases wherever they crawl, creating an unsanitary environment. Reclaim your space from a fly infestation with help from Terminix! We offer fly control and prevent flies for horse flies, house flies and other common flies.
Terminix® Gets Rid of Flies — For Good
Terminix® provides expert fly extermination as part of our Portsmouth, VA pest control services. With more than 80 years of pest control experience, we know how to get rid of flies, from horse fly control to fruit fly prevention. We also provide services to prevent flies and make sure you won't have any repeats of your current fly infestation.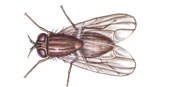 Here's how our fly treatments work:
A fly control plan begins with a free, no-obligation inspection of your home and property to identify and possibly eliminate conditions that attract flies.
We'll then propose a customized fly treatment to exterminate and prevent flies in and around your home. Every service is backed by our industry-leading 100% ultimate protection guarantee.
If you want to know more about our Portsmouth, VA fly control plans, call us! You'll see for yourself why thousands of customers rely on Terminix® for their fly control needs. Call 1-800-BUGS-911 (800-284-7911) today to schedule a free initial consultation!