Rocky Mount, NC Cockroach Control by Terminix®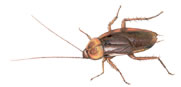 Roaches are infamous for giving us the heebie-jeebies. Beyond being repulsive, however, roaches can create unsanitary conditions in a home as they carry and spread diseases.
Terminix® can protect your home from cockroach contamination! Roaches multiply quickly, so even one could be a sign of a big infestation. Call us and we'll move quickly to kill roaches and prevent their return.
We Get Rid of Roaches Fast!
Terminix® will take fast action before a cockroach population can multiply and get out of control. We can be at your home within 24 hours to begin cockroach extermination, using powerful treatments to kill roaches in your home. Our 80 years in the pest control industry give us the needed experience to get rid of roaches in your Rocky Mount, NC home or business and make sure they don't come back.
Rocky Mount, NC Cockroach Extermination Plans
The Terminix® cockroach exterminators utilize a three-part approach to attack a cockroach problem and prevent cockroach infestations in the future.
Our cockroach extermination plan includes:
Inspection: Terminix® will determine the extent of cockroach infestation so we can target our treatments accordingly.
Elimination: We use industry-leading technology to effectively get rid of roaches in your space, no matter how bad the problem.
Prevention: Our pest technicians will educate and inform you on the best ways to prevent cockroaches and will set up chemical barriers to discourage roaches from coming back and kill any roaches that try.
To learn more about our cockroach control methods and to get rid of roaches in your space, call 1-800-BUGS-911 (800-284-2911) today to schedule a free initial consultation!