Terminix®: The Rocky Mount, NC Termite Control Experts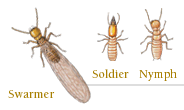 Termites cause billions of dollars in damage every year to homes and businesses throughout the U.S. If a termite infestation is not quickly identified and eliminated from a Rock Mount, NC property, the resulting termite damage can be costly to repair.
Don't let this happen to you! With one call to Terminix®, you'll have a certified termite exterminator there within 24 hours to protect your home or business from termite damage. From the initial inspection and subterranean termite detection to applying termite treatments, we use the most effective methods to get rid of termites and prevent them from coming back.
Termite Control Solutions for Every Need
Each Rocky Mount, NC residential or commercial pest control client is different, and so is each property's termite infestation. Each case requires a unique approach, and your Terminix® termite exterminator will design a custom termite control plan to perfectly suit your needs.
Our guaranteed Rocky Mount, NC termite control treatments include:
The Terminix® Liquid Defend System™: This system creates an immediate termite treatment zone around and through your home's foundation.
The Terminix® Termite Baiting Program™: An alternative "GREEN" termite control option for Rocky Mount clients who are concerned about chemical usage on their property.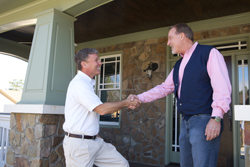 Offering Value & Peace of Mind Through Effective Termite Control
Terminix® is confident that we are the Rocky Mount pest control company that will give you the best and longest-lasting results. That's why all of our termite control treatments are backed by our 100% ultimate protection guarantee. We promise damage repair and free re-treatments as long as you are under contract!
Terminix® also offers other exclusive benefits, such as:
A $25,000 damage repair guarantee
Thorough property inspections that help prevent termite damage
Large range of treatment options
Free inspection and price quote courtesy of a professional Terminix® termite exterminator
To learn more about our Rocky Mount, NC pest control for termites or discuss your termite control options, call 1-800-BUGS-911 (800-284-2911) today to schedule a free initial consultation!