The Fly Control Services Trusted by Rocky Mount, NC
Flies are such small pests that it can be easy to overlook them. Homeowners often forget that flies pick up and spread germs everywhere they land, circulating bacteria and potentially harmful diseases to the surfaces you use most!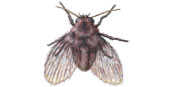 Don't let flies contaminate your home or business — call Terminix® for effective Rocky Mount, NC pest control! We can respond quickly to get rid of flies and stop the spread of germs.
Terminix®: Fly Prevention & Treatments You Can Count On
Terminix® has more than eight decades of experience delivering effective pest control services. We protect our Rocky Mount, NC customers from fly infestations of all species, including horse flies, fruit flies and house flies. Our fly control includes fly treatments to exterminate an existing problem, as well as measures to prevent flies in the future.
Here's how our fly treatments work:
A fly control plan begins with a free, no-obligation inspection of your home and property to identify and possibly eliminate conditions that attract flies.
We'll then propose a customized fly treatment to exterminate and prevent flies in and around your home. Every service is backed by our industry-leading 100% ultimate protection guarantee.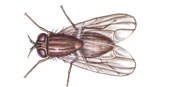 For more information on our effective Rocky Mount, NC fly control plans, and to see for yourself why thousands of customers rely on Terminix® for their fly control needs, call 1-800-BUGS-911 (800-284-2911) today to schedule a free initial consultation!