Holly Springs, NC Fire Ant Treatments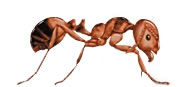 Fire ants aren't just a nuisance—their stings can be very painful, and can even cause serious allergic reactions. Don't let the fear of fire ant stings keep you out of your backyard. Call Terminix® today to get rid of fire ants! We provide professional fire ant control for homes and businesses in and around Holly Springs, NC.
Say Goodbye to Fire Ant Stings with Help from Terminix®!
It's no wonder Terminix® is one of Holly Springs' most trusted fire ant extermination companies—we've been battling these pests since they first migrated to North Carolina over 50 years ago. During your fire ant treatment, one of our trained specialists will:
Inspect. We'll assess the level of fire ant infestation to help customize your treatment.
Identify. We'll pinpoint the source of your ant problem and determine the size of the colony.
Treat. We'll apply a highly effective product called Extinguish Plus®, which works to fight fire ants in two different ways: to eliminate the colony and to insure that it cannot be rebuilt.
Follow-up. To ensure total protection from future fire ant infestations, we follow up on a regular basis.
To learn more about our Holly Springs, NC fire ant treatment methods and to get rid of your fire ant infestation, call 1-800-BUGS-911 (800-284-7911) today to schedule a free initial consultation, or use our location finder to find your nearest office!