Rid Your Outer Banks Home of Horse Flies, House Flies & More
To some people, flies are nothing more than a slight inconvenience…something to swat at along their leisurely afternoon strolls or while seated in the bleachers at a baseball game. Unfortunately, they can be much more than a "slight inconvenience."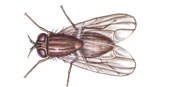 Primary carriers of harmful bacterial diseases, horse flies, house flies, fruit flies and other types of flies pose a real health risk to humans. Terminix® can help you protect the sanitation of your residential or commercial property with our fast and effective Outer Banks, NC fly control and preventative options. Contact us today to learn more about our proven fly control.
Outer Banks Fly Prevention & Treatment by Terminix®
Terminix® offers comprehensive fly control, including a multitude of fly treatment and fly prevention options. From horse flies and house flies to fruit flies and drain flies, our 80 years of experience in the industry makes us equipped to effectively manage nearly any type of fly infestation in Currituck County and across North Carolina.
Key features of our Terminix® Outer Banks Fly Control:
Fly Inspection: Our fly control plan begins with a free, no-obligation inspection of your Outer Banks home and surrounding landscape to identify and eliminate conditions that attract flies.
Fly Treatment & Prevention: We'll then propose a customized fly treatment to exterminate and prevent flies from venturing in and around your home. As with all our pest control services, Terminix® Outer Banks Fly Control is backed by our industry-leading 100% ultimate protection guarantee.
Still not convinced this is the fly control service for you? Contact us today at 1-800-BUGS-911 (800-284-7911) to schedule a free initial consultation and see for yourself why thousands of customers in Outer Banks and the surrounding Currituck County community rely on Terminix® for their fly control needs! Call now!