Terminix® Backyard Mosquito Control for Outer Banks, NC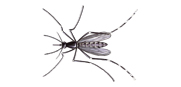 Is the constant buzz of mosquitoes ruining the time you spend outdoors in the Outer Banks of NC? How about the itchy and painful mosquito bites that accompanies it? Terminix® can help you reclaim your outdoor space from those pesky mosquitoes with its fast and reliable backyard mosquito control and prevention.
But don't take our word for it…contact us today to schedule your free, no obligation consultation and take your mosquito control efforts from subpar to superb!
Eliminate & Prevent Mosquitoes the Terminix® Way
Mosquitoes thrive in warm, humid climates which is bad news for people in the Outer Banks and surrounding Currituck County community when it comes to mosquito control. Luckily, Terminix® has just the solution you're looking for…
If you're finding it increasingly difficult to control your NC mosquito infestations, call the pest control experts at our Outer Banks Terminix® location. Our comprehensive backyard mosquito control program will completely eradicate your current infestation–and prevent mosquito problems for weeks to come! Key features:
Inspection: We thoroughly examine your property to determine the source of your mosquito problem. After which, we help you find a solution and advise you on things you can modify on your property to repel mosquitoes.
Treatment: Terminix® can help you create a comfortable, mosquito-free environment with its powerful backyard mosquito control treatments and technologies. Through our moisture control efforts, standing water sites will be identified and eliminated (when necessary).
Prevention: We back our mosquito treatments with a 100% ultimate protection guarantee. And if that's not enough, our pest control experts offer on-site training to help you better understand the cause of the infestation and how to prevent mosquito infestations in the future.
Reclaim your backyard with our Outer Banks Mosquito Control!
Interested in learning how Outer Banks Terminix® has helped hundreds of homeowners in and around the Outer Banks reclaim their backyard from mosquitoes? Call 1-800-BUGS-911 (800-284-7911) today to schedule a free initial consultation and keep your loved ones mosquito-bite free for weeks to come!