Terminix®: Trusted Outer Banks, NC Termite Control
Termites may seem harmless enough. When left untreated, however, termite damage can result in extensive and costly repairs to your Outer Banks, NC home or business. Ensure the ultimate protection of your property with Terminix® early detection, extermination and termite and prevention services!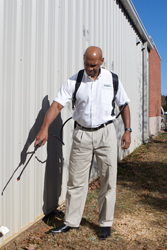 Our Outer Banks termite treatments are guaranteed to eradicate even the worst termite infestations in a fast and efficient manner. Within 24 hours of calling Terminix®, you will have a certified termite exterminator at your door to initiate the termite control process with their thorough inspection of your NC property. Contact us today to get started on the eradication of your Currituck County termite infestation.
Custom Pest Control for Outer Banks Termite Infestations
Each termite infestation is unique––as are the needs of our Outer Banks customers. Your Terminix® termite exterminator takes this into account in their creation of a custom termite control solution designed to target the most termite-vulnerable areas of your home or commercial property.
Terminix® Outer Banks, NC termite control treatment plans include:
The Terminix® Liquid Defend System™: This system creates an immediate termite treatment zone around and through your home's foundation.
The Terminix® Termite Baiting Program™: An alternative "GREEN" termite control option for Outer Banks clients who are concerned about chemical usage on their property.
Powerful & Lasting Termite Control, Guaranteed by Terminix®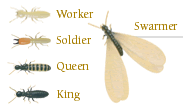 Here at Terminix®, we want our clients to feel confident in the termite control services we provide. That's why all of our Outer Banks, NC termite treatments are backed by our 100% ultimate protection guarantee. As long as you're under contract, we will cover termite damage repairs up to $25,000 as well as free re-treatments!
Other benefits your experience with Terminix® include:
Thorough property inspections to help prevent termite damage
Powerful termite treatments
Free inspection and price quote, courtesy of a professional Terminix® termite exterminator
To learn more about our Outer Banks pest control for termites, call 1-800-BUGS-911 (800-284-7911) today to schedule a free initial consultation!