Fire Ant Treatments for Smithfield, VA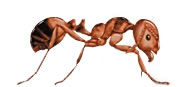 Anyone who has ever been unfortunate enough to endure the wrath of a fire ant understands exactly why these creatures are so loathed. Commonly found in eastern Virginia, fire ants sting their victims leaving painful, burning wounds that can become infected if not treated.
While human deaths are rare, the venomous stings of fire ants can endanger the lives of children and smaller pets if the attacking population is large enough. Why put the wellbeing of your loved ones at risk? Terminix® can protect you and your property from fire ant infestations with its esteemed Smithfield, VA fire ant treatments.
Terminix® Gets Rid of Fire Ants – 100% Guaranteed
Since fire ants first migrated to Virginia in the 1990s, Terminix® has been providing fast and powerful fire ant control. The fire ant treatments we provide to both residential and commercial properties across the Isle of Wight County area involves the following:
Inspect. We'll determine the scale of the fire ant problem to help target treatments.
Identify. We'll identify the source of the problem and assess the size of the colony.
Treat. During the three seasons when fire ants are active, we'll apply a highly effective product called Extinguish Plus®, which works against the pests in two different ways: to eliminate the colony and to ensure that it cannot be rebuilt.
Follow-up. Terminix® knows that effective fire ant control takes ongoing attention. We follow up on a regular basis to ensure that your fire ant problem is gone for good.
To learn more about our Smithfield, VA fire ant treatment methods, call 1-800-BUGS-911 (800-284-7911) today to schedule a free initial consultation. Access our location finder to find your nearest office!