Rid Your Smithfield, VA Home of Horse Flies, House Flies & More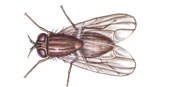 Some people view flies as a mere annoyance — something to swat at along their leisurely afternoon strolls through the park or while seated in the bleachers at a baseball game. Unfortunately, they can be much more than a slight inconvenience.
Horse flies, house flies, fruit flies and other types of flies can pose a real health risk to humans through their spreading of all forms of bacteria and diseases within and around your Smithfield, VA home or commercial facility. Terminix® can protect the sanitation of your property with our fast, effective pest control and preventive options.
Smithfield Fly Prevention & Treatment by Terminix®
Terminix® offers total fly control, including fly treatments and fly prevention throughout Isle of Wight County and Virginia. From horse flies and house flies to fruit flies and drain flies — our 80 years of experience in the industry makes us equipped to effectively manage nearly any fly species.
Here's how our Smithfield fly treatments work:
A fly control plan begins with a free, no-obligation inspection of your home and property to identify and possibly eliminate conditions that attract flies.
We'll then propose a customized fly treatment to exterminate and prevent flies in and around your home. Every service is backed by our industry-leading 100% ultimate protection guarantee.
Still not convinced? Contact us today 1-800-BUGS-911 (800-284-7911) to schedule a free initial consultation and see for yourself why thousands of customers rely on Terminix® for their fly control needs!