Smithfield, VA Moisture Control by Terminix®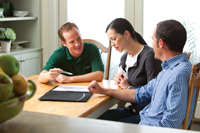 Did you know that the soil beneath your home can release as much as 19 gallons of water a day? This and other excess moisture can make its way inside your Smithfield, VA home — causing extensive and costly damage to its structure.
In addition to structural damage, too much humidity can ruin your belongings and attract termites, cockroaches and other pests. To protect your home from excess moisture, contact the moisture control experts at Terminix®! We offer Smithfield home inspections and moisture control services that deliver lasting results.
Prevent Excess Moisture in Your Smithfield Home
Older homes are commonly thought to be the most vulnerable to excess moisture. However, this is not always the case. With modern construction standards, the joints of new homes are installed tighter than in older homes, allowing moisture to become trapped in the structure and build up over time.
Terminix® can help protect both old and new Smithfield, VA homes from moisture damage with its esteemed moisture control solutions. Since our founding more than 80 years ago, we have helped thousands of clients throughout Isle of Wight County and Virginia identify and resolve their residential moisture problems. Call us today for home moisture control you can trust to help you avoid future pest problems and water damage.
Terminix® Crawl Space Moisture Control System
At Terminix, our five-part crawl space moisture control system can help you prevent the harmful effects of excess moisture, including pest infestations and water damage. It involves our use of:
To learn more about moisture control services for Smithfield, VA, call 1-800-BUGS-911 (800-284-7911) today to schedule a free initial consultation!