Get Rid Of Roaches in Chesapeake, VA: Call Terminix®!
Cockroaches are probably the most hated and revolting pests—and with good reason. A roach problem is more than just an annoyance—roaches also play host to a number of bacteria that they carry into your home with them. If you have an infestation, get rid of roaches now by calling in Terminix®, Chesapeake's cockroach control professionals.
Fast, Powerful Cockroach Control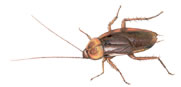 Our Chesapeake, VA pest control experts know that a fast response is critical when getting a cockroach problem under control. When you choose us for cockroach control, we'll have someone at your house within 24 hours to kill cockroaches and apply cockroach prevention treatments.
Kill Roaches Quickly, Thanks To Terminix®
Terminix® uses a three-step cockroach extermination plan that offers long-lasting relief from cockroach infestations.

Our Chesapeake cockroach control plan includes:
Inspection: We'll evaluate the current level of cockroach infestation to better target treatments.
Elimination: Our powerful, industry-leading pest control treatments offer unmatched cockroach control.
Prevention: Your Terminix® cockroach exterminator will explain the best ways to prevent cockroaches and will apply chemical barriers to protect your home from future infestations.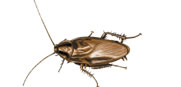 To learn more about our Chesapeake, VA cockroach control services, call 1-800-BUGS-911 (800-284-7911) today to schedule a free initial consultation!