Choose Flea Extermination from Chesapeake's Finest: Terminix®!
Fleas infestations can be an ongoing challenge, particularly when pets are involved. But you can win the battle against fleas! Exterminate fleas safely and effectively with professional home flea control from Terminix®.

Our Chesapeake, VA flea exterminators are very skilled and outfitted with the latest, most powerful treatments available to the pest control industry. With over 80 years of experience in flea prevention and extermination, Terminix® is the only call to make!
Fast & Effective Flea Control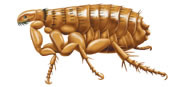 Terminix® flea treatments are usually effective with only a single application, giving you instant relief from even the worst flea problems.

Just follow these easy pre-treatment steps before we visit your Chesapeake, VA residence:
Vacuum all carpets and floors
Pick up toys and other objects in the flea treatment area
All people and pets must be out of the treatment area
After treating the current infestation, a Chesapeake flea control expert will also provide info on flea prevention so you can stay free of fleas. And should you have any problems with fleas in the future, Terminix® offers free unlimited re-treatments for as long as you maintain your pest control contract!

As always, our home flea control is backed by a 100% ultimate protection guarantee.

To learn more about our Chesapeake, VA flea treatment and prevention methods, call 1-800-BUGS-911 (800-284-7911) today and schedule a free initial consultation!