Get Fly Control For Your Chesapeake, VA Home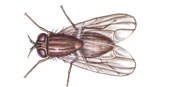 Sure, it's annoying to have a fly buzzing around your head—but did you know that they can carry and spread many dangerous diseases? These pests leave bacteria everywhere they crawl, making it almost impossible to maintain a clean environment in your home or commercial facility. Get rid of flies now with help from the Chesapeake, VA fly control experts at Terminix®!
Call Terminix® To Prevent Flies From Returning
Our comprehensive fly control plan includes defenses against common house flies as well as horse flies. Go with Terminix® and we won't just exterminate your current fly infestation — we'll make sure they won't be back.

Here's how our Chesapeake, VA fly control works:
We begin with a free, no-obligation inspection of your property to identify and possibly eliminate conditions that attract flies.
We'll then design a custom fly treatment to exterminate and prevent flies in and around your home. Every fly control service is backed by our industry-leading 100% ultimate protection guarantee.
For more information about our Chesapeake, VA house fly and horse fly control plans, call 1-800-BUGS-911 (800-284-7911) today to schedule a free initial consultation!