Trusted Southern Pines, NC Cockroach Control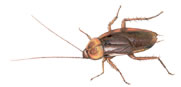 Cockroaches: these pests may be the most hated, and with good reason. Not only can they play host to many nasty germs, they are also tough bugs. It can be hard to get rid of roaches without the help of a cockroach exterminator. If you have a cockroach infestation, call the Southern Pines, NC cockroach control experts: Terminix®!
Powerful Southern Pines Pest Control to Get Rid of Roaches
Our Southern Pines, NC cockroach exterminators won't give these bugs a chance! We use a three-step cockroach control plan to quickly kill roaches and prevent them from coming back.
Our cockroach extermination plan includes:
Inspection: Terminix® will determine the extent of cockroach infestation so we can target our treatments accordingly.
Elimination: We use industry-leading technology to effectively get rid of roaches in your space, no matter how bad the problem.
Prevention: Our pest technicians will educate and inform you on the best ways to prevent cockroaches and will set up chemical barriers to discourage roaches from coming back and kill any roaches that try.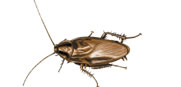 To learn more about our cockroach control methods and to get rid of roaches in your space, call 1-800-BUGS-911 (800-284-2911) today to schedule a free initial consultation!