Say Goodbye to Mosquito Bites: Southern Pines, NC Mosquito Control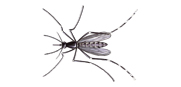 If you can't enjoy the outdoors without fear of mosquito bites, turn to Terminix®! We're trusted as the Southern Pines mosquito exterminators who offer powerful, effective backyard mosquito control. Our mosquito control technicians can get rid of mosquitoes so you can once again enjoy your outdoors in peace!
Southern Pines Backyard Mosquito Control & Prevention
Mosquitoes love the North Carolina climate, which provide the ideal conditions for these pests. With our 80 years of pest control experience, Terminix® provides the professional mosquito control needed to get rid of these pests for good!
With up-to-date and effective mosquito treatments and pest control methods, we provide ongoing mosquito control services. Your mosquito control technician will also teach you steps you can take to prevent mosquitoes.
Our Southern Pines, NC mosquito prevention and elimination process includes:
Inspection: We assess your property and find problem areas that may be the source of your mosquito problem. We help you find a solution and advise you on how to avoid a mosquito infestation in the future.
Treatment: You can enjoy the outdoors in a comfortable, mosquito-free environment once more! Mosquitoes don't stand a chance when they're up against our powerful backyard mosquito control treatments.
Prevention: We back every mosquito control treatment with our 100% ultimate protection guarantee!
Terminix® keeps Southern Pines homes and commercial properties free of mosquitoes. Call 1-800-BUGS-911 (800-284-2911) today to schedule a free initial consultation!