Powerful Southern Pines, NC Fire Ant Control
Fire ant stings can be very painful, but for some, they can even be dangerous. Fire ant stings have the potential to cause a severe allergic reaction that could lead to hospitalization. Terminix® can help protect your home or business from fire ants with our Southern Pines, NC fire ant control services.
Call Terminix® to Get Rid of Fire Ants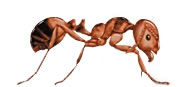 We have decades of experience getting rid of fire ant infestations, so you can have confidence that we know how to do it right. Terminix® has developed an expert fire ant control plan that includes powerful fire ant treatments, to eliminate these pests and make sure they won't be back in the future.
Your Southern Pines, NC home or commercial fire ant treatment will include:
Inspect. We'll determine the scale of the fire ant problem to help target treatments.
Identify. We'll identify the source of the problem and assess the size of the colony.
Treat. During the three seasons when fire ants are active, we'll apply a highly effective product called Extinguish Plus®, which works against the pests in two different ways: to eliminate the colony and to ensure that it cannot be rebuilt.
Follow-up. Terminix® knows that effective fire ant control takes ongoing attention. We follow up on a regular basis to ensure that your fire ant problem is gone for good.
To learn more about our Southern Pines, NC fire ant treatment methods, call 1-800-BUGS-911 (800-284-2911) today to schedule a free initial consultation, or use our location finder to find your nearest office!