Terminix® The Elizabeth City, NC Flea Control & Prevention Experts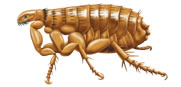 Fleas maybe be small, but they are tough and can be surprisingly hard to get rid of. Flea infestations are a persistent problem that calls for the assistance of a professional flea control specialist. Call Terminix® to put an end to your flea infestation and eliminate fleas for good.

Terminix® flea control experts have been effectively treating flea infestations in Elizabeth City, NC for nearly 80 years. We use the latest equipment and flea prevention treatments so you can banish fleas and get back your peace of mind.
Home Flea Control that Elizabeth City, NC Can Count On
Our powerful treatment typically needs just one application to be effective, giving you instant relief from even the most terrible flea problems.

You Terminix® flea control expert will not only get rid of your fleas, but also educate you on flea prevention to make sure you won't have flea problems in the future. If the fleas return, however, rest assure—we offer free unlimited re-treatments for the duration of you pest control contract for home or business!
Just follow these easy steps prior to treatment of your Elizabeth City, NC residence:
Vacuum all carpets and floors prior to our arrival
Pick up all toys and other objects in the flea treatment area
All people and pets must be out of area to be treated
Our treatment products kill fleas and have growth regulators built into them, so fleas are eliminated for good! As always, our home flea control is backed by a 100% ultimate protection guarantee.
To learn more about our home flea treatment methods, call 1-800-BUGS-911 (800-284-7911) today and schedule a free initial consultation!