Get Rid of Flies in Your Elizabeth City, NC Home!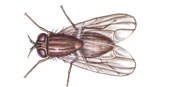 House flies often play host to all kinds of nasty bacteria and microbes—which is definitely not something anyone wants in their home or office. Flies are not only annoying, they can spread bacteria and pose a health risk. Don't give flies that chance. Call Terminix® today to get rid of house flies or horse flies in your Elizabeth City, NC home or business!
Prevent Flies with Terminix®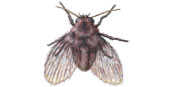 Terminix® offers a complete pest control plan that covers fly control, so you can get complete relief. Our Elizabeth City, NC customers love that their home isn't just fly-free for the time being, but that our methods prevent house flies or horse flies from returning.
Here's how our fly treatments work:
A fly control plan begins with a free, no-obligation inspection of your home and property to identify and possibly eliminate conditions that attract flies.
We'll then propose a customized fly treatment to exterminate and prevent flies in and around your home. Every service is backed by our industry-leading 100% ultimate protection guarantee.
To find out more about our effective Elizabeth City, NC fly control plans, and to see for yourself why thousands of customers rely on Terminix® for their fly control needs, call 1-800-BUGS-911 (800-284-7911) today to schedule a free initial consultation!